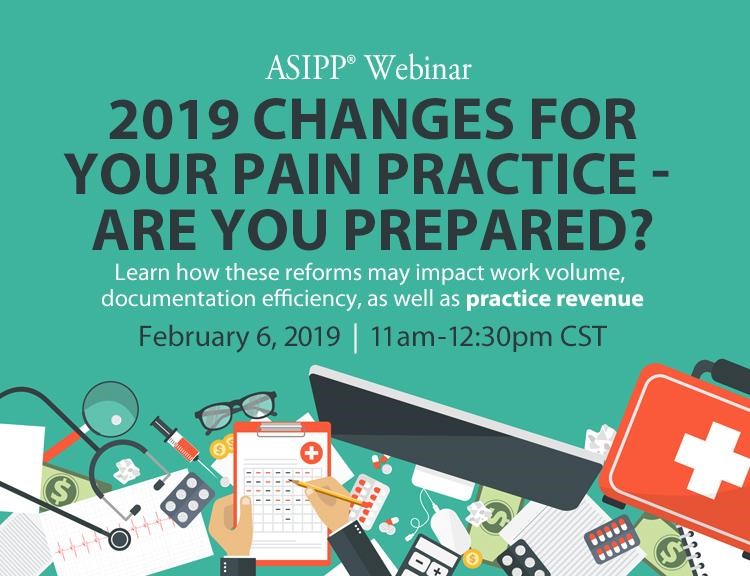 COURSE FEE:
$175
CEUs:
1.5 hrs
The archived webinar is now available, register today!
A constant for all practices is billing for evaluation and management services. It has been 20 years since any changes have been made to documentation requirements and the methodologies to determine the correct level of service to report. Sweeping changes have been proposed, to be implemented starting in 2019 and continuing through 2021. Tune in to this webinar to learn how these reforms may impact work volume, documentation efficiency as well as revenue for your pain practice.
As communication technology advances, medicine is evolving to embrace these new ways to provide care to their patients. With the 2019 advent of CMS's inclusion of telehealth services in their fee schedule, pain providers need to understand the rules, required documentation and coding for these virtual visits. After listening to this webinar, attendees will be able to answer questions such as: Who can perform these visits? What happens if the encounter results in a face-to-face visit? What needs to be recorded in the patient's medical record?
Spinal cord stimulators have provided pain relief to many of those suffering from chronic pain. Whether your practice performs the implantation and ongoing care, or only provides the analysis and programming of these devices, be aware that some important clarifications have been made that directly impact billing and reimbursement. Spinal cord stimulation is also the subject of potential revaluing when performed at an ASC so ensure you understand how place of service may influence payment.
It is all over the news, we are in an "Opioid Crisis". How is your practice balancing prescribing high risk medications, performing the necessary testing for potential misuse/abuse of drugs, but also surviving a payer's audit? Some pain practices have already been targeted for investigation for overuse of urine drug testing, prosecuted by the government, and forced to pay large sums of money back to Medicare (and some other payers). Some have even had to serve time in jail. Protect your providers and your practice from falling prey to these situations by learning what needs to be documented to support medical necessity for your opioid related services.
You will be provided with the tools you need to handle these and other 2019 updates so mark your calendars now: February 6, 2019 and join us for this informative session.
Note: If you are unable to view the live webinar, you can register and receive the archived webinar at no additional charge and receive the CEUs and presentation pdf.
---
Judith Blaszczyk
RN, CPC, ACS-PM
Medical Compliance Auditor, Auditing for Compliance and Education, Inc.
Judith Blaszczyk has 19 years of experience as a registered nurse working in an acute care hospital setting. This background provides invaluable insight into the clinical aspects of medical coding and documentation as well as experience interacting with physicians and other clinicians. In addition to her clinical background, Blaszczyk has more than 28 years of experience in medical coding and billing, specializing in anesthesia and pain management.




Devona Slater
CHA, CMCP, CHC
President, Auditing for Compliance and Education, INC
Devona Slater is a strong ally to both physicians and their patients. For more than a decade, she has been committed to helping physicians manage their practices so they can devote more time to doing what they were trained to do – practice medicine. Slater has served as president and compliance auditor specializing in anesthesia and pain management issues for the past 17 years. She has helped numerous anesthesia and pain management professionals across the nation with billing, coding and compliance issues.
CME CREDIT
*This program has been submitted to the American Academy of Professional Coders (AAPC) for 1.5 continuing education hours. Granting of prior approval in no way constitutes endorsement by the AAPC of the program content or the program sponsor.