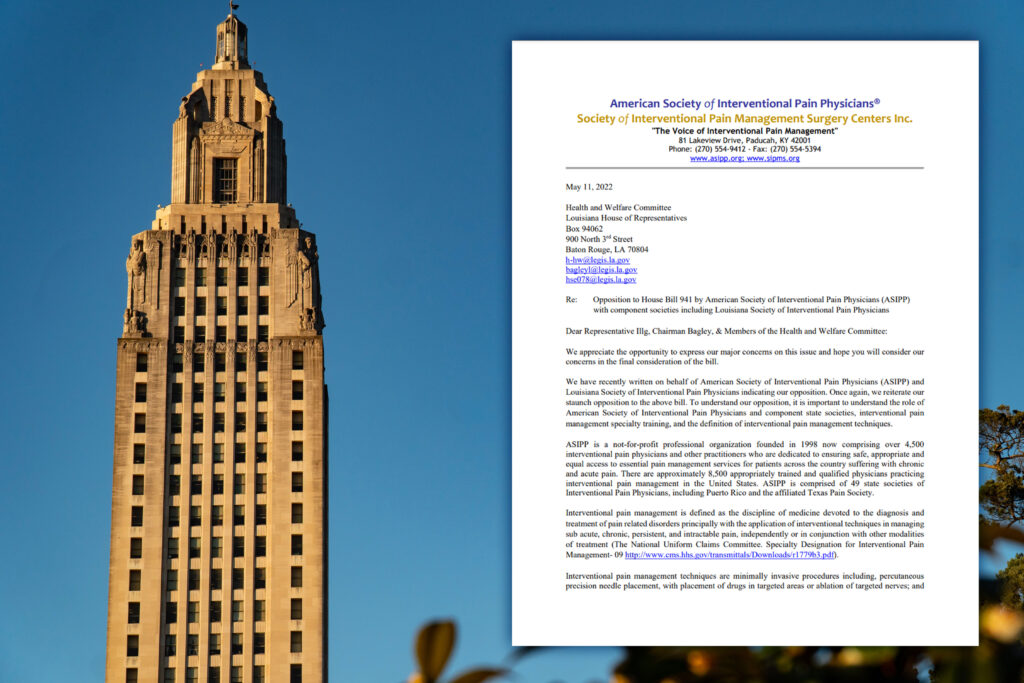 The American Society of Interventional Pain Physicians (ASIPP) and Louisiana Society of Interventional Pain Physicians (LSIPP) actively opposed Louisiana HB 941 which would restrict access to minimally invasive spine procedures performed by appropriately trained interventional pain management physicians.
The bill would restrict access to care, prevent new minimally invasive techniques from being accessed in LA which are currently readily available across the country, and ultimately harm patient care by forcing patients to have much larger and more invasive procedures completed by surgical specialists who only seek to protect their financial well-being by restricting access only to themselves to complete more invasive procedures.
It was to be acted upon on, Tuesday, May 2, but because of the ASIPP/LSIPP lobbying and opposition, this onerous bill has been tabled at this time. LSIPP Executive Director and President, Paul Hubbell, was set to testify our opposition when the bill was tabled in the final hour. We must keep this issue in our sights as it may be reintroduced with edits in the future.
Please keep in mind that bills such as these can occur in all states, and often are introduced quietly without much notice. This is an example of the importance of the ASIPP affiliate state societies! If you are not a member of your state society, please consider joining today. https://asipp.org/join-us-renew-2/
Click here to see ASIPP/LSIPP letter to the Louisiana House of Representatives, Health and Welfare Committee.