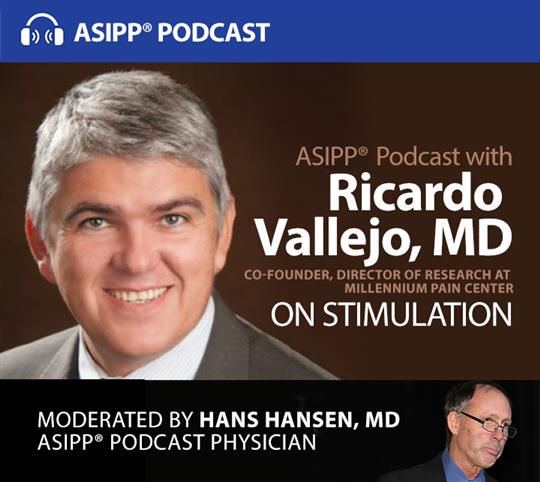 Hans Hansen, MD, ASIPP President is back with another of his excellent podcasts. He is in the Medical Education Research Institute, located in Memphis, attending the ASIPP October courses including Lumbar Endoscopic Spinal Decompression, Regenerative Medicine, Neuromodulation, and Interventional Techniques. Dr. Hansen explains that ASIPP will be recording ASIPP courses and making them available to the world. So in the near future you'll be able to listen to podcasts on Interventional Techniques from your car, home, boat, etc. Look for that in near future.

At the October meeting Dr. Hansen ambushed Ricardo Vallejo, MD, Bloomington, IL. He was on the faculty of the Interventional Techniques Comprehensive Review Course and Cadaver Workshop. Dr. Vallejo has been partners with Ramsin Benyamin for over 15 years. He has a PhD in Immunology, Chief Resident at the University of Miami, and did his fellowship at Mass General. He is considered a worl leader in Stimulation and shares his ideas during this podcast.
Approximately 50 members of ASIPP attended a great legislative session in Washington, DC. Members and staff had great visits with many senators and members of the House, including multiple committee chairs. It appears that we are maki..
CMS has issued its revised decision on coverage of Percutaneous Image-guided Lumbar Decompression (PILD) procedure which does not remove all the restrictions; however, it expands the coverage. They are asking to perform another cohort CMS approve..